Hello to whoever may be reading this! Our names are Kirsten Terry and DeVaughn Prenters, but you can call us Kat & Bat. First off, I want to tell you how grateful I am for you even taking the time to read my story.  
We are looking to get a donation of around 5,000 to be able to ensure one full month of bills can be paid and initial deposits for the move while we get jobs and move in. We are saving every penny we can, but we are in desperate need of help and anything would be greatly appreciated.
I HAVE MADE MAIN REASONS WE NEED HELP IN BOLD IF YOU WISH TO SKIM:
My boyfriend of 6 years, DeVaughn, and I are trying to get some assistance with relocating to Colorado. We left Atlanta, GA a little over a year ago after I experienced something traumatic in our own apartment that made it so I could not mentally or emotionally handle living there or even within the city. My amazing boyfriend stuck by me even though my decision to leave so swiftly and put us out of jobs and a home. We both already contemplating moving to the west side of the country before the incident but were still undecided about where exactly would be best for us and hadn't set aside any money for the move yet. Once the incident occurred, I was not in a healthy state of mind and we had decided that it would be better to live out of our vehicle and get away than to stay.
When we first decided on our course of action, we had a small beat-up Toyota Camry and knew that wasn't a feasible vehicle for 2 people to live out of, so we went about trading our car outright for a larger vehicle. We got lucky and found someone on Craigslist willing to trade that night for a Dodge Grand Caravan. We ran into some issues with the van and had to get a credit card to get the van ready for the road and living out of it. Once we got the larger vehicle, we got rid of practically everything, trying to sell as much as we could. Then we took the seats out of the van and created a space for a futon mattress to fit and a small cargo area for the few belongings we had left out of a cheap piece of plywood and some 2x4s. We bought the cheapest storage bag for our roof and a bike rack for our bikes since those were the most expensive items that we still owned other than the car, figuring we could sell them along the way if needed.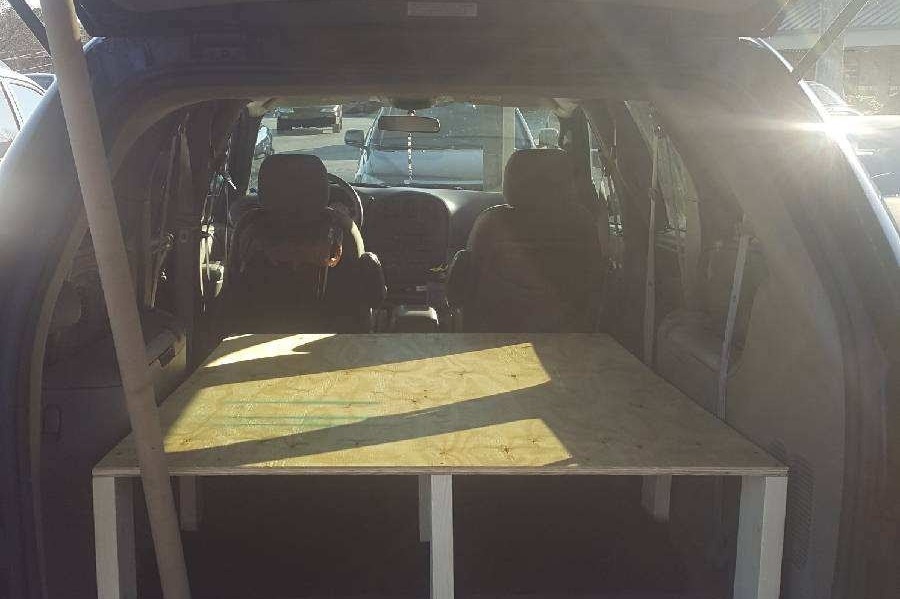 We had everything packed and ready and had found someone to take over the lease in less than a month after the incident. Of course right before we were going to leave our A/C went out, but we weren't going to let that get in the way of leaving. Then we took off to Tennessee to start, hoping we could get some assistance from DeVaughn's brother. He did what he could to help us out but none of our family members were in a good position to help us in the way we needed. 
We then contacted my cousin in Arizona and she offered to take us in while we got back on our feet. Now we had to find a way to get there and we were already barely surviving with the money we had. We were driving for Postmates (a delivery service similar to Uber Eats) to make some money, but with the amount of gas the van required, all our money was going right back to that. I still had some available space on a credit card and got the maximum spending allowance bumped up to ensure we could get to Arizona. By the time we arrived, we had maxed out that card along with another credit card and had absolutely no funds. 
Arriving in the dead of Summer with no A/C in the hot desert of Arizona was not a fun experience. After we arrived we had a week of record-breaking heat, but that wasn't going to stop us! The day after getting here, we got straight to job hunting! Putting out at least 10 resumes a day in person and countless online applications, DeVaughn was hired at 2 places within the week. I, on the other hand, couldn't find a position for 2-3 weeks. As soon as we were hired, we worked as often as we could to get some money to at least pay our phone bills and minimum credit card payments.
We were in our own cheap studio apartment in 3 months and had traded in our van (that was in pretty bad shape) and financed a certified-used Honda Civic since they are reliable and we no longer needed to live out of it.
I still wasn't in the best state of well being and hated being alone in the apartment. We decided to get a pet to help with my emotional and mental state and with us being in such a small space of 400 square feet, we thought a cat would be the best fit. That's when we got Alfred, he has been extremely beneficial for me and makes me feel like I am needed. I started feeling better and happier on a more regular basis.
For the next few months, we were just been trying to stack up some money, get some debt paid off and move forward with our lives. We finally got caught up enough to pay all our bills semi-comfortably and maybe start putting some money away. Then July came around and we were rear-ended at an intersection by a Ford F-350 and slammed into a Cadillac Escalade in front of us, needless to say, our small coupe didn't survive the crash and was totaled. Thankfully we had good enough insurance and we weren't at fault for the accident. The bad news was, we were young and dumb and no one told us about GAP coverage so we still were going to owe money on our Honda even after the insurance money. Leaving us with no money for a down payment on a vehicle. On the bright side, we were not severely injured but did need some physical therapy and medical care for the injuries we did sustain.
Other than the soreness and whiplash, DeVaughn had severe back pain the day after the accident, and we went to seek medical care at Arizona Pain Relief Center. They recommended I got examined as well even if I wasn't experiencing any symptoms of major injury. After x-rays for both of us and an MRI and CT Scan for myself, turns out DeVaughn had a couple vertebrae that needed to be adjusted back into place correctly and I had a torn ligament in my neck along with a ruptured bursa sac in my knee. I was out of work for 2 full weeks and him out for 1. Along with some of the initial medical expenses and being out of work, we were broke once again just barely paying bills on time. Plus we had physical therapy for 12 weeks, 3 times a week, which was affecting my work schedule availability. 
We have been able to get a new vehicle and get back to work, but it has been 3 months since the accident now and we are still getting caught up again. We have also made the decision that Arizona is not the best place for either of us. I have realized that I need greenery and connection to nature, a place I can enjoy spending more time outdoors along with a place with more like-minded people to myself and the ability to advance in my career opportunities. Which is why we have chosen Colorado! 
We knew going into our lease here in Arizona that it was just a temporary place to continue getting back on our feet but a year later and I am already feeling myself going crazy not being able to be in the environment I need for my mental health and well being. We are looking to move in January of 2019 and are doing everything we can to save for that, but we are having some trouble and don't know if we will be able to get it all together in time, and if not, we will have to re-sign our lease for another year and I don't think I could manage for that long without going back into a depressed state and my life becoming more unmanageable again.
We are doing what we can to find a job there that can assist with relocation costs, but without a degree of any type, there aren't many positions we can achieve before moving. Therefore, we will most likely not have jobs when we get there and want to try and save an extra months worth of finances outside of our first months' rent/utilities and deposits. So that is why we are reaching out for help, any little bit would make a huge difference to us. I know for some, it wouldn't seem like a need to move, but it really is for us and our overall well being and I hope you can see that from my story and see it in your heart to help me and my boyfriend get where we want and need to be.  Your support would mean the world to us!
Even though this story is relatively long, it is only the main points and if you want to ask me further questions about my story or anything at all, feel free to contact me.
Thank you so much for your donation or even taking the time to read my story! Much love!
Kat Terry