I'm Latavia Young. I am Fall 2018 graduate from Arizona State University with a Bachelors of Arts in Film and Media Production and a Minor in Digital Audiences. I am beginning my Masters of Fine Arts at Colorado State University in Arts Leadership and Cultural Management in this Fall 2019.
Me on set of my very first short film freshman year of university.
Throughout my undergraduate career, I led in many different capacities and self-expressed through various outlets; filmmaking, photography, modeling, and design. I served as a Creative Fellow for two years, mentoring freshman film, dance and theatre students through their transition from high school to university life and acting as a liaison between students, staff and administration. I was a member, then Creative Director, then President of the ASU Film Association creating networking and creation opportunities and spearheading our annual Student Film Festival two years in a row in addition to executing other large scale events and traditions. I also served on various committees and initiatives on campus at ASU such as Residence Hall Association where I advocated for resources for students who lived on campus, Woman's Coalition where I took part in the planning of Women's HERstory Month, and in the Herberger School for Design and the Arts where I pitched the idea that two years later became Herberger Day! In addition to my extracurricular activities, I wrote, directed, and/or produced many student films, completed a few internships (one being Meet the Filmmaker with Robert Townsend and Charles Burnett), worked two jobs including managing ASU's very own Digital Creative Studio, and maintained a 3.4 cumulative GPA.
Accepting the Outstanding Producer's Award December 2018
As a result of my grit throughout my 3.5 years of undergraduate university, in my sophomore and junior year I was award the School of Film, Dance and Theatre Special Talent Scholarship Award and in my senior year I was 1 of 5 undergraduate students of ASU's over 40,000 students nominated as an Outstanding Undergraduate Student Leader and was awarded the Outstanding Producer's Award from the School of Film, Dance and Theatre in addition to producing 7 films that were selected to showcase in the Fall 2018 and Spring 2019 Senior Showcase.
My last night as the ASU Film Association President in April 2018
Yes, I kept myself busy during undergrad and I plan to do the same thing throughout Graduate School but with a twist; interning at the Jimmy Fallon Show!
I chose to complete my master's program online to afford me the ability to enter the workforce and begin my career.
While starting my career was the plan, I wasn't anticipating moving to New York until a few days ago, when I received an email stating that I was accepted into The Tonight Show's Internship Program for Fall 2019!
Due to being afforded the luxury of living back at home with my parents in order to focus and save money for my Graduate Program, I am raising money to both assist me in relocation from Cheyenne, Wyoming to Manhattan New York by or around August 1st as the internship begins on August 5th as well as initial costs.
If you didn't know, living in New York costs a pretty penny (quite a couple pretty pennies…(okay a lot more than a couple)). Currently, most apartment rentals, subleasing, and/or long-term Airbnb rentals require large deposits/down payments and/or excessive income requirements which with more that I can give upfront would give me more an ability to get into an agreement with a landlord. I have also looked into student housing in New York which is anything from $8,000 – $10,000, with half of it due upfront.
Why complete this internship rather than stay home and save money?
I have loved storytelling and entertainment for as long as I can remember. I later discovered that I have an insatiable thirst for success and a drive that keeps me busy and wanting of the highest goals that I can attain in addition to the disbelief in the idea of not having enough money or enough time. My ultimate goal is to be a Film Producer and this is another huge step toward that.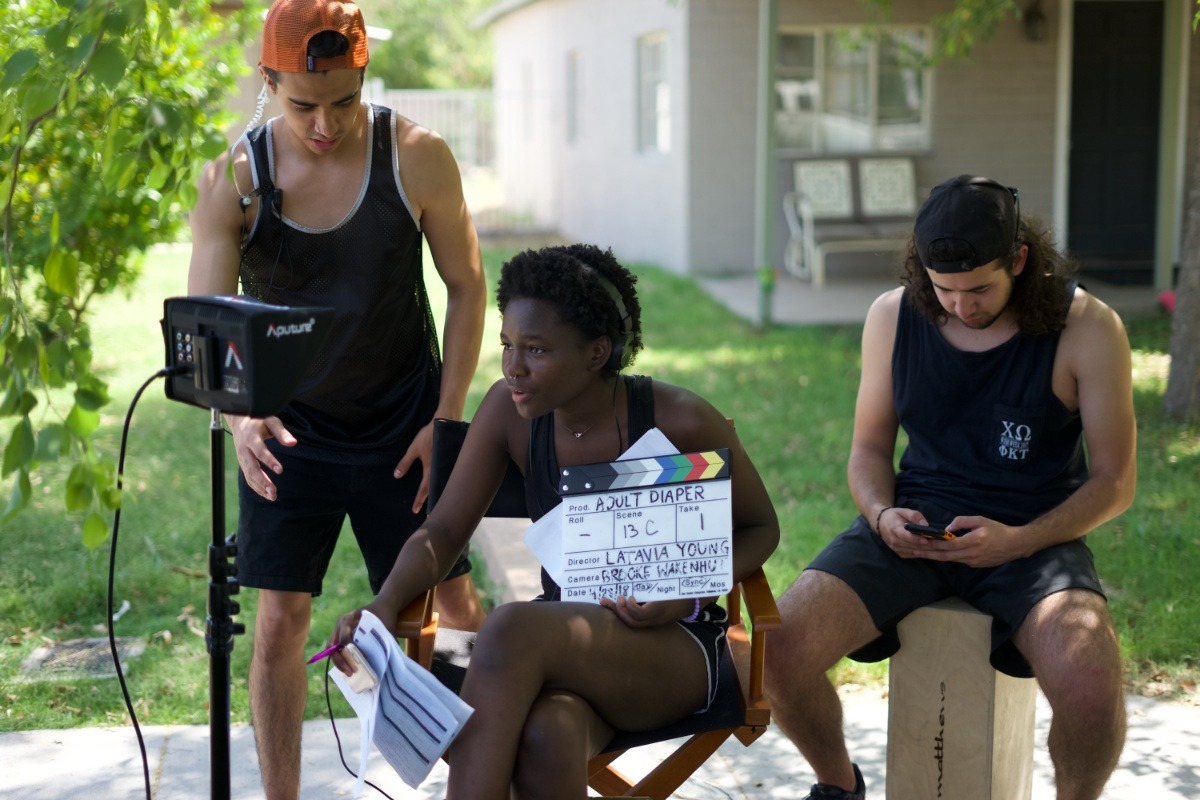 Me on set of my senior capstone film
—–
Up to this point in my life, I am an example of what happens when I am loved, supported, and invested in and so I ask my family, my friends, my school community, my film community, and my creative community in general to continue to invest in me!
It would mean the absolute world to me to get as close as possible to this goal not only for my career but the fact that I have a community willing to continue to push me and believe in me!
If you're interested in seeing any of my work please visit my portfolio: https://thelataviayoung.myportfolio.com/
Here are some publications that I am involved in:
An Interview with Dean Tepper, Dean of Herberger Institute for Design and the Arts
https://vimeo.com/240877640
Statepress Article about the ASU Digital Creative Studio
https://www.statepress.com/article/2018/02/spcampus-digital-creative-studio-opens-in-mu
Article about ASU Creative Fellows
https://campus.asu.edu/content/asus-herberger-institute-fosters-creative-community
Statepress Article about the ASU Film Association
https://www.statepress.com/article/2018/04/spartcult-film-students-are-set-to-showcase-their-best-work-at-the-upcoming-student-film-festival
—–
I would like to give a huge thanks to anyone who has ever donated to and/or shared any of my film projects in the past. You have all been a part of getting me to this point but I have so much further to go!
Thank you for reading!
– Latavia Young