This is an on-going fund… for me…
"Art is unquestionably one of the purest and highest elements in human happiness. It trains the mind through the eye, and the eye through the mind. As the sun colors flowers, so does art color life." ~John Lubbock (1834-1913), "The Pleasures of life"
One of the hardest occupations to make money at these days is being an artist. With funding being pulled from arts programs in schools, colleges and universities as well as government grant options disappearing, the admiration and appreciation for those who dedicate their life to the arts has diminished substantially. We endure social media allowing images of our work to be stolen and used without payment. Well meaning friends expect work at highly discounted prices. Unfortunately, for the artist, we still must do our art but most of us are living in dire poverty in order to hone our skills well.
It's really not as simple as going to get a "normal" job. This is our job. This is what we do. If we go and get a full time job in addition to doing this job… then this job, our art, will suffer.  If you treat your talent as a hobby that is all it will ever be. We, artists, give our life to our talent understanding the dedication required. Most of us work 16-18 hour days on our art, 6 days a week. And while it takes a while for it to pay off, the journey must happen for the payoff to happen.
It wasn't that long ago that people would see a person with talent and invite them into their home to feed and house them so that they can just focus on their art – poets, musicians, actors, writers and visual artists all lived like this. Their patrons would also fundraise so that the artist was able to constantly expand and focus on their talent. In fact, it was quite a status symbol to be a person who was supporting an up and coming artist. Why that disappeared in North America is unknown. It is still a practice in parts of Europe where they still understand the importance of art in life because it is more than just art… it heals…  "At the deepest level, the creative process and the healing process arise from a single source. When you are an artist, you are a healer; a wordless trust of the same mystery is the foundation of your work and its integrity." ~ Rachel Naomi Remen, MD …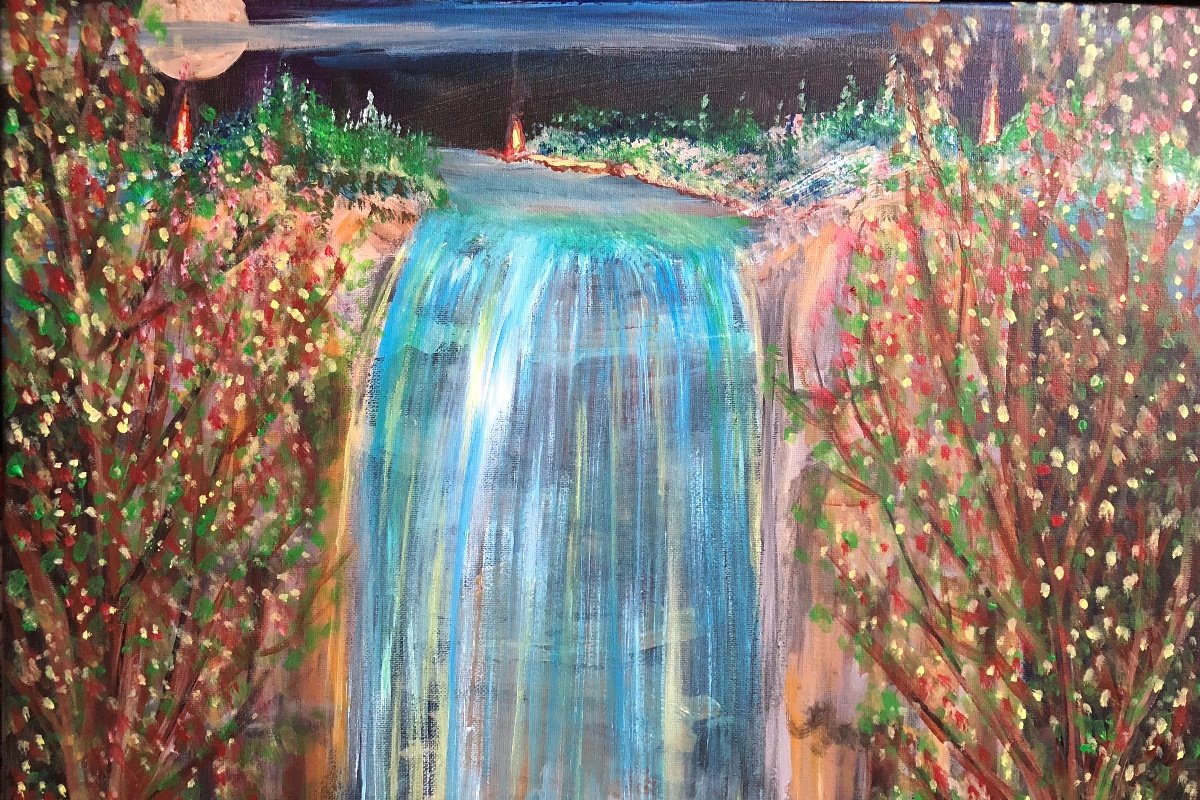 I'm not asking you for a handout. I'm asking you to invest in the future of art. I'm asking you to keep visual art alive by funding my ability to keep working on and focusing on my talents.
"Arts and culture make considerable and necessary contributions to the well-being of communities. Arts and culture are powerful tools with which to engage communities in various levels of change. They are a means to public dialogue, contribute to the development of a community's creative learning, create healthy communities capable of action, provide a powerful tool for community mobilization and activism, and help build community capacity and leadership." ~ Creative City Network of Canada
Your donation will go toward whatever I need at the time – Paint, Canvas, Soap Stone, Glass, Inspiring Hike, Fees for Art Shows and Booths to sell my work, gas to get there,  camera equipment, new easels, brushes, pallets, finishing kits, and all other art supplies. It will pay for me to host a website with my work. It will pay for me to be able to take the time to market my work.

Each year I will draw a name from the donators so far and they will win one original painting or drawing of my choosing. Unfortunately I can not pay for shipping (Yet). All donators will also receive an invitation to any art events or gallery showings I am in.
Below is a brief biography. If you require my CV please contact me directly.  I thank you for your interest in the arts.
I am a Canadian Artist, who is a card carrying member of Federation of Canadian Artists – originally formed by some of my heroes in Canadian Art – The Group of Seven.
I am formally trained and educated in Fine Art and Fine Art History. After a lengthy sabbatical I have found my soul again and I am launching an entirely new series that I will be showing here and in a gallery in Ontario Canada in the near future. You might also know me as Jennifer Steele or Steele Wilder from the work I do in virtual worlds and my voice-over work.
I am available for commissioned work – painting, sketches, sculpture, pottery, illustrations, book covers, and 3D virtual art. Please email me or msg me for a quote. If there is a work I am showing on this page that you would like to purchase please contact me. Please keep in mind that I'm an established artist and I don't work for food. Although if you're a really good cook and there's wine involved I might. ;)
I have studied under many professional artists across the span of my interest in the arts. As a Chef I studied under amazing Chefs and as an Artist I gave myself no less of a trial. My painting influences are definitely from Michal Manson, Ken Danby, Tim Burton, Tom Thomson, Frida Kahlo, Kandinsky, Botticelli, O'Keeffe, Henri de Toulouse-Lautrec, Claude Monet and as you can well see in some cases Edvard Munch.
Overall I would say I can credit my painting and sculpture to 4 main people – David Matthews, the librarian at my elementary school, who gave a small child a stool and let her just sit, watch and ask questions as he painted amazing landscapes with his oils and ever so patiently answered my questions. He taught me trees and water at 8 years old – he fueled the fire. Gordon Brown was my mentor in highschool who pushed me well beyond the safe place I was keeping my art to bigger canvas and more forms – sculpture, pottery, lithographs and of course trying every sort of painting technique there is. Gordon also brought out the poet. He knew allowing me to say the words would create the art. I'm a published poet because of him. – he flamed the fire.
Then, unfortunately briefly, I was under the tutelage of Monty Wright. Monty taught me to have my own style signature. That is, be comfortable with how I create. It did take me years to realize I was never going to be Ken Danby – but listening to Monty's advice made me finally settle into a noticeable style and pallet that people who do follow my work instantly recognize. Monty also introduced me to early, very early, (remember this is early 80s) Graphic Art software. He lit the flame in me for combining my art with computers. Now today I can take anything and make a 3D model out of it, or recreate something I have already created to take it one set further – he also flamed the fire.
The most influential personality in the development of my painting eye and technique was Michal Manson – my mentor all through University and afterward – I owe Michal so much for so many reasons but most of all for her constant sarcastic critiques of my work which oddly made me try harder and harder. I will never ever forget the late nights, in her little apartment over the bookstore in Waterloo, doing and redoing paintings and drawings until Michal either started pouring me wine or handed me a new canvass. She taught me to hate comments like "oh that's cute" or "yes that will sell well at Sears". She taught me art is not art until it begs a story from it's seams. She completely changed my eye and the way I look at everything down to it's finite detail. She taught me a lot about really good wine and when to celebrate a finished work. She taught me to know when to ask the canvass if it needs anything else and to know when to stop painting. I can still feel her hand on my shoulder and that raspy laugh behind my ear when she was pleased with what she saw. The last thing I remember her saying to me was in an email shortly before she died – "just stop everything you're doing and paint and f&*cking be you kid no matter what – you were born an artist you are an artist you will die an artist. Everything else is just bullsh*t". Well Michal, I'm finally doing exactly that and I miss you every day – she made the fire roar.
My photography style and effect are the result of being blessed by being able to work closely with the remarkably talented Wilhelm Nassau for 3 years. I'd love to say I worked with him in Vienna but alas it was in Waterloo Ontario. He was the very first mentor who made me examine my work constantly to ensure it wasn't pedestrian but had a reason to be printed. An absolutely brutal critic who did bring me to tears here and there but there was no other person who would have taught me so well. I did put my Minolta Maxxum 7000 SLR away permanently when digital came out – but I'm planning to dust her off again as I see quite a few real photographers are finding their way back to at least 35mm.
Nobody taught me how to sculpt soap stone. That I just picked up one day and decided I could do it and found out I'm pretty good at it…
Anyway… from kid to now I've won various awards for my work and I plan to win more :) I hope you enjoy everything you see.. and more I hope you find a piece that makes you sit for a while and just contemplate life. I don't explain the story behind any of my pieces and I never will because the story is yours to create.
Send your donations to https://www.paypal.me/myartsells